10 year continued relationship supplying PTS, Europe's leading stainless steel fastener company, with consultancy, creative, web, technical and marketing solutions since 2009.
Results
Valued and committed relationship since 2009, underpinning and driving continued online sales and growth

Data organisation and improved procedures to deliver accurate content to both website and catalogue

Streamlined workflow processes and data organisation for the production and delivery of automatically generated product catalogues for both interactive and press-ready PDFs

Online and offline search engine optimisation (SEO) consultancy helping the company stay ahead in a competitive market

Brand exposure, lead generation and improved sales through regular web, data and digital marketing services, contributing towards an £8m acquisition of the company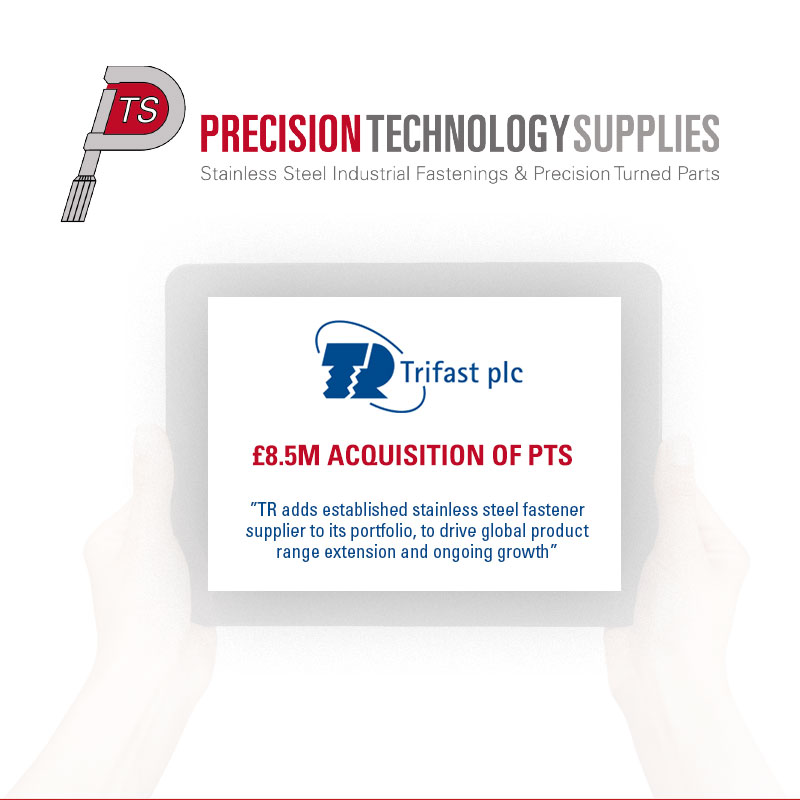 Services
SEO consultancy

Website consultancy

Technical consultancy

Data management

Search engine optimisation (SEO)

Pay-Per-Click

Google Ads

Brand development

Website design

Graphic design solutions

Business stationery

Advertising design

Promotional flyers

Brochure design

Print production

Email marketing
Industries
Retail

Stainless Steel Fasteners
More case studies
Speak with our award-winning team on 01342 837821 or arrange your no-cost branding, website, technical or marketing consultation below.
Background
PTS are one of Europe's leading suppliers of stainless steel screws, nuts, bolts, washers and precision turned parts, maintaining a huge and comprehensive stock (120,000+ products) of mainly, stainless steel fasteners and fixings with global distribution. Acquired by TriFast PLC for around £8m+ in 2018, PTS have been a client of 5and3 since 2009, when they initially commissioned our Creative Director to design their first eCommerce store.
Solutions
Results driven web design and digital marketing
Now with their 3rd generation website, PTS (East Grinstead, Sussex) have invested in our expertise to design bespoke eCommerce websites three times, each one evolving to the demands of business growth, technology and customer interaction. Each website has been driven by thorough auditing and reports; including the understanding of the customer journey, powers of search engine optimisation, understanding of technologies and importantly PTS's products.
Through regular SEO consultation and website auditing, digital campaigns and social media, optimisation and management of Google Ads; both organic and direct traffic, leads and sales are all increasing month on month and thus creating a leading online presence within their industry.
Brand touchpoints and relationship marketing
Developing brand awareness and building relationships can be achieved through a variety of brand touchpoints, whether that be person-to-person, advertising, display or printed collateral. 5and3 has armed PTS with an array of highly successful brand touchpoints over the years so that their sales team are fully equipped to promote the business and products to the right audience.
US Market: MIT and Las Vegas
5and3 even provided logo design, advertising and graphics for the Massachusetts Institute of Technology's (MIT) MASLAB 2012 in the US, to help cement PTS's position as a key supplier of micro-robotic metric fasteners to the US market.
Further to helping PTS enter the US market, we then created a campaign based on the gambling slang term 'The Nuts' meaning full house, for a fastener event in Las Vegas. The campaign consisted of creative direction, photography, advertising and brochure design.
Data organisation and streamlined product catalogue creation
The PTS website holds comprehensive details of their product range, with easy online ordering. However, customer requirements drove the need for both a physically printed and digital catalogue. Through the organisation of live data that feeds the website and the catalogues, two 500+ page product catalogues can be created within 5 minutes at the click of a button. One press-ready PDF for immediate production and the other digitally optimised PDF with clickable live, 'up-to-the minute' product links to the website for ordering and purchase.
Both catalogues are available in English, Spanish, German, Hindi, simplified Chinese and, wait for it, 'American' (the reason for the US version is because we have a boot and they have a trunk!). Also, the master PDF document is indexed in a number of ways, with in-document active links and is fully searchable.
client Testimonial
I worked with Chris initially on our website and corporate brochure back in 2009. The 5and3 team are now working with us to develop our electronic brochure, providing technical development solutions to automate the process of generating a live data fed ecatalogue. We are also in the process of producing a new responsive website, for which 5and3 designed and provide ongoing development consultancy and SEO.

I'd recommend 5and3 to anyone that needs a creative and technical outlook for all their online presence, marketing, SEO and Google Ad requirements.
A Edwards. Finance Director