Brand Creation & identity, bespoke website and marketing solutions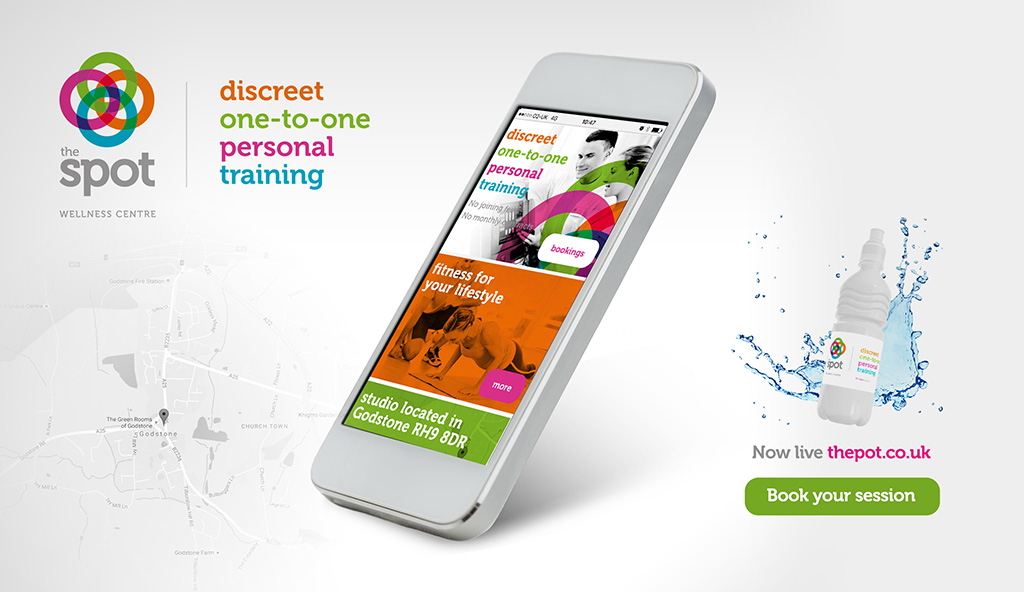 The Result
75% of fitness studio capacity now pre-booked weekly

Commercial contracts acquired with local businesses

Brand and marketing touchpoints delivered & launched on time for business opening

Secured bookings at The Spot's opening launch

Continued leads and bookings obtained through social media and advertising
Jump right to the creative visuals
Background
Our client Nick Forster is a former professional footballer who has had a successful playing career as a centre forward (Striker) for clubs such as Brighton and Reading in the Championship, as well as the England u-21 national team. Dedicated to health and fitness Nick is a Triathlete and keen road cyclist who has also undergone training in both fitness and coaching. Accompanying these qualifications he has also taken part in supplement courses/trials; notably HerbaLife Nutrition.
A self-confessed fit-a-holic, Nick decided to launch a new Fitness and Wellness Centre in Surrey. A business that would run alongside his existing tailored insurance services business 'Profound Risk Management.'
The Brief
The brief was fairly straightforward: To create and market a brand and start-up business that was targeted towards a predominantly female clientele. With the primary vision being 'personal lifestyle fitness'; set in an intimate and relaxed studio away from the sometimes judgemental eyes that you may find at a corporate gym.
Services
Brand identity

Brand development

Creative direction

Business stationery

Responsive website design

Website design

Website development

Search engine optimisation (SEO)

Hosting and emails

Graphic design solutions

Print production

Poster design

Copywriting

Signage

Social media account setup

Social Media Adverts

Promotional flyers

Advertising design

Animated web banners

Promotional Merchandise

Brochure design

Branded flags

Vehicle Graphics

Pull up banners

Table Cloth
Industries
More case studies
Speak with our award-winning team on 01342 837821 or Arrange your branding, marketing and website consultation below.
Bespoke responsive website design
Our web team designed and developed a bespoke and fully responsive website with core focus: to attract new customers organically through search engines, whilst allowing for digital marketing, direct mail and advertising to drive customers to the site in order to increase session bookings.
Arrange your website consultation
What now? Speak with our award-winning team on 01342 837821 or Arrange your branding, marketing and website consultation below.
Poster and brochure design
To coincide with the brand and studio's opening launch day, we created a series of special offer posters, flyers and social media adverts to tempt invitees to sign up on the day. We also created a brochure that gives interested parties more information about the spot's credentials and training services.
Interior and exterior signage
The icing on the cake for this really exciting branding project was for us to direct the creative team and help to produce an amazing interior for their fitness studio. We worked with the Sign Company in East Grinstead, West Sussex to produce exterior and interior signage, bespoke wallpapers and inspirational vinyl messaging throughout the Wellness centre. Overall, an awesome creative solution was achieved, all in time for the launch party.
the creative process
The first step for us (after receiving the initial brief from Nick) was to have a business consultation in the comfort of our relaxed studio. From that initial meeting, we gained a clear understanding of Nick's vision for the company and laid out the goals we would achieve going forward.
This meeting was invaluable (as is often the case in a pre-project meeting) because Nick's thoughts, ideas and passion were evident, allowing us, as a group to really explore ideas.
Thanks to Nicole and Freddy (Nick's Wife and 6 year old Son; who provided a great source of energy!) our Creative Director Chris came away from the creative meeting enthused and excited by the creative and technical challenges that lay ahead. Rubbing his hands together Chris set about planning the deliverables and budget that would be required to launch a new brand for this local start-up business.
The submission of the budget and the expected marketing deliverables were greeted with a resounding 'yes, we need them all!' We set about working on the initial branding concepts that encapsulated the vision discussed.
Immediate hurdles
"The initial problem for any creative director or graphic designer is to understand the client's expectations and requirements. What they, the client, believes to be right for their business doesn't necessarily mean is right for their intended audience. In this instance, Nick's original thoughts for the brand were to use a similar style to that of his existing business Profound, with the difference being the images and colour. Orange was mentioned as a potential replacement for Profounds green, but, I had other ideas!" Chris Heighton
Initial brand concept ideas
Target market – The concept that we feel is right for the intended audience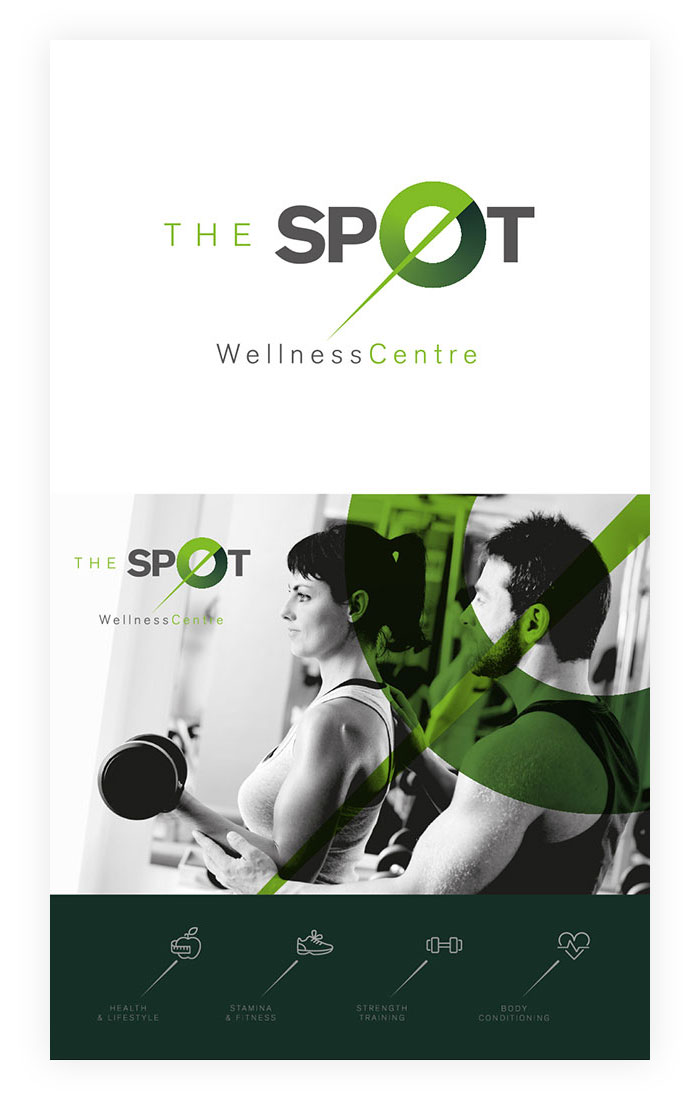 Safe (Client) – A concept that the designer produces to appease the client's original ideas
Designers – A concept that the designer explores to ensure they are entirely satisfied with their best idea
brand concept feedback
Three ideas were submitted for feedback and as happens frequently, there were likes and dislikes within all three concepts.
Nick suggested tinkering with the concepts to try and get certain aspects of each to work together as one.
This isn't uncommon. Our previous experience has shown that when the client likes/dislikes certain aspects of each design they try to combine all of the parts they like into one concept.
Invariably this doesn't work because the three concepts are truly unique and trying to combine or force them together just won't work. Sometimes though, we can be proven wrong!
We helped Nick through this exact issue. After explaining the differences in each concept and how they would and wouldn't work together we came to a compromise we were both happy with.
We go through this process to ensure the customer knows the impact their decisions may have on a design whilst equally wanting them to be happy and satisfied with the result. See opposite for visuals from the attempted tinkering.
"I like the that one, what do you think? Can we try seeing what it looks like on a flag?"
Chris quickly created a rectangle flag based on the logo Nick prefered, to prove to both the client and himself that it wasn't right.
"What do you think?"
Chris examined the new design. Shedding the bias of personal preference and trying to look at it from the point of view of the target audience specified in the brief.
"It doesn't work for me Nick I'm afraid. It's not right for your target market"
Following a short discussion referencing the original brief and based on the process that we'd just gone through, Nick simply said:
"Ok, you know what? You're the experts and so I'll leave it with you to do what's right."
Well, the right thing to do was to get some valuable feedback from his target audience. We had a general idea of the right brand direction, but we had to ensure that it appealed to women.
There was a clear winner, having asked many women (our wifes' included), which their preferred concepts was.
Chosen concept
Now that we had 100% backing from our client and we were convinced that our preferred concept was going in the right direction, we evolved and developed the brand concept further prior to submitting the final idea to our client.
Above is an artboard that demonstrates the creative workings of how a brand should be consistent across their marketing collateral. This is the designer's artboard and not the final conceptual proposal that was submitted to the client. Unfortunately, we cannot show you that as it contains sensitive information, however, should you wish to engage with us on a branding project, you will get to see a full brand proposal from the 5and3 team!
Final Brand delivery
Is it "Wow" you're thinking?! Well, from consultation and briefing, concept to design development, we finally got to the point whereby we successfully delivered a brand identity, responsive website and marketing collateral for our client. All in time for the grand opening launch.
What now? Speak with our award-winning team on 01342 837821 or Arrange your branding, marketing and website consultation below.