Brand positioning & identity design, website & marketing collateral
The result
Professional and consistent brand identity

New business and client partnerships secured

Increased website unique page views by 400%

Increased website through traffic and lead generation by 250%
Jump right to the creative visuals
Background
New Concept are an environmentally friendly cleaning company, using biodegradable and hypoallergenic cleaning products which have minimum impact on the ecosystem both in their use and in the manufacturing process.
Pioneers of the water-fed pole (WFP) cleaning system, that uses hot or cold pure water to clean external glass and facades safely up to a height of 80 feet and specialising in window and facade cleaning, daytime office cleaning, eco-friendly office cleaning and washroom management, New Concept have history dating back 25 years with numerous accreditations including: Chas, BICs, IRATA and the ISO9001.
The Brief
We were commissioned to produce a new brand identity that could be used cross platform, a website that evoked their brand and associated marketing materials that not only reflected the companies brand values and unique selling points (USPs) but importantly, helped them achieve brand and quality of service recognition above and beyond their competitors.
Our Solution
Following initial brand consultation, where we as a team, gained an insight into New Concepts cleaning services, environmental USPs and new business direction, we set about researching competitors in order to conceptualise a unique brand identity.
Based on early concept designs we produced a final and unique brand, along with a fully responsive website solution that worked across all devices and was built semantically for optimal search engine performance. Complimenting the website, we produced exciting office stationery, an amazing slip case brochure, office signage, vehicle livery and a completely bespoke ring binder.
These materials allowed New Concept to tender for and pitch against their competitors in a more professional way and has enabled them to secure many new contracts including; Royal botanical gardens Wakehurst Place, Adur District Council and Bromley Borough Council.
Services
Brand identity

Graphic design solutions

Brochure design

Folder design

Website design

Website development
Industries
More case studies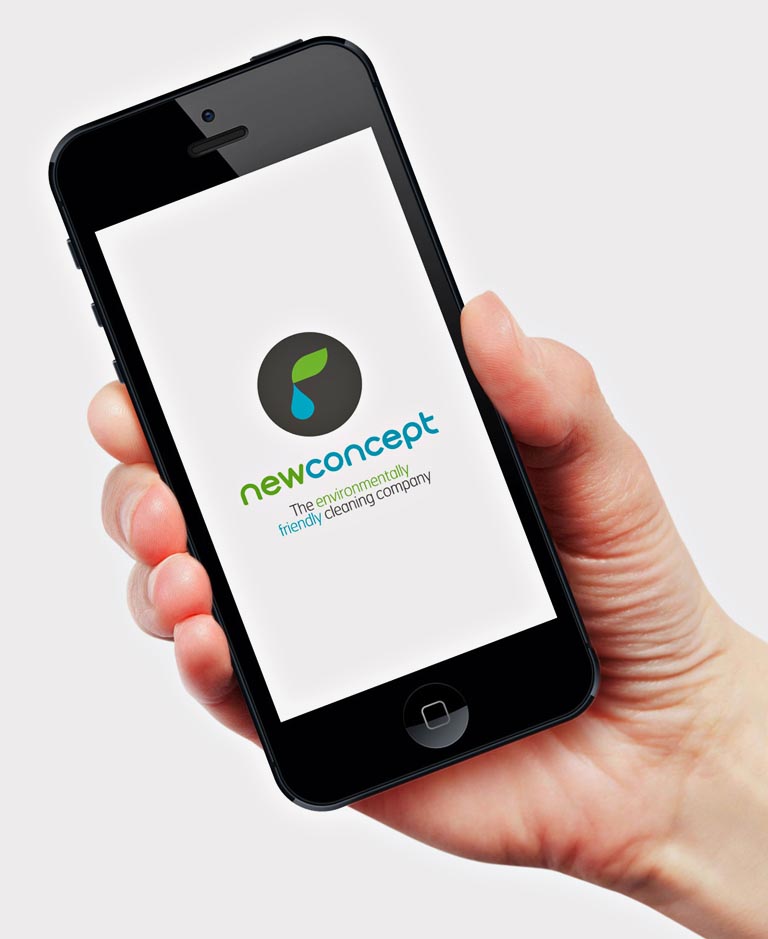 Logo mark
We crafted a bespoke iconographic brand logo mark that was centred around the idea of a leaf (eco friendly) and water droplet (pure water.)
The brand mark is fresh and fits within the businesses eco philosophy and forward-thinking vision. Simple and elegant it's an ideal solution for both digital and printed medium,
Business Stationery
Often overlooked, stationery is rarely designed further than what you see on the page. We set out to produce a suite of materials that not only looked good, but felt great too. Printed on a 100% recyclable paper/board (Cocoon Offset) the letterheads, compliment slips and business cards felt great and adhered to the client's eco-friendly approach.
Bespoke Brochure design
New Concept required a brochure that had longevity and flexibility. We provided a creative printed solution for our client; a brochure with pocket and tabbed inserts. This allowed our client to have interchangeable sleeves for their key services and ever growing client testimonials.
Printed on a environmentally friendly Cocoon 350gsm stock board the brochure had a rough and organic feel. The ink sat nicely on the board without losing contrast, thus retaining the vibrant brand colours.
Bespoke Ring binder design
A completely bespoke ring binder was produced, made from cardboard and printed using the same paper stock as the brochure, for consistency. Used together with brochure and business cards it provided a consistently branded suite of tender materials.
Considering a company rebrand?
Speak with our award-winning team on 01342 837821 or Arrange your no-cost branding, marketing and website consultation below. Alternatively, if you're unsure whether you need to rebrand your business please click > here
Responsive Website Design
A bespoke responsive website solution that worked across all devices; desktop, laptop, tablet and mobile. The website was designed with usability and flexibility in mind and boasts our very own content management system, 5and3 Core Extension.
Responsive website design and development
Touch screen, iPhone and iPad ready
HTML5 and CSS3 build
jQuery and Javascript functionality
Search engine optimisation (SEO) + User experience optimisation (UEO)
5and3Core Extension content management system
New Concept have a completely bespoke, responsive website that works seamlessly across multiple platforms; iphones, tablets and desktop computers. The website has a unique and distinctive appeal, that not only complements the brand but also their business philosophy, for being at the fore-front of their industry.
Website Design process
Our creative and user experience team set about designing wireframe structures for the site. Navigation, usability and aesthetic were then carefully considered and concepts created on brand and put forward to the client for comment. Following initial client feedback and design iterations the creative team then further developed all website page designs for final client approval.
Web Development process
All page designs and asset sheets were then passed to our front-end website development team to begin the build of the website. Using a combination of Bootstrap, HTML5, CSS3 and javascript, the team completed development. Once built and fully functional, the team set about adding content, meta data and improving image optimisation to the site for ultimate web presence and performance.
CMS Integration process
The site contains 5and3Core Extension, 5and3's very own content management system (CMS). This CMS had to be integrated and hooked up with the front end framework in order for the 5and3Core system to deliver content in the correct website styles, retaining the brand consistency.
Google analytics was then added shortly before going live, which produces a monthly stats. report that is sent directly to New Concept.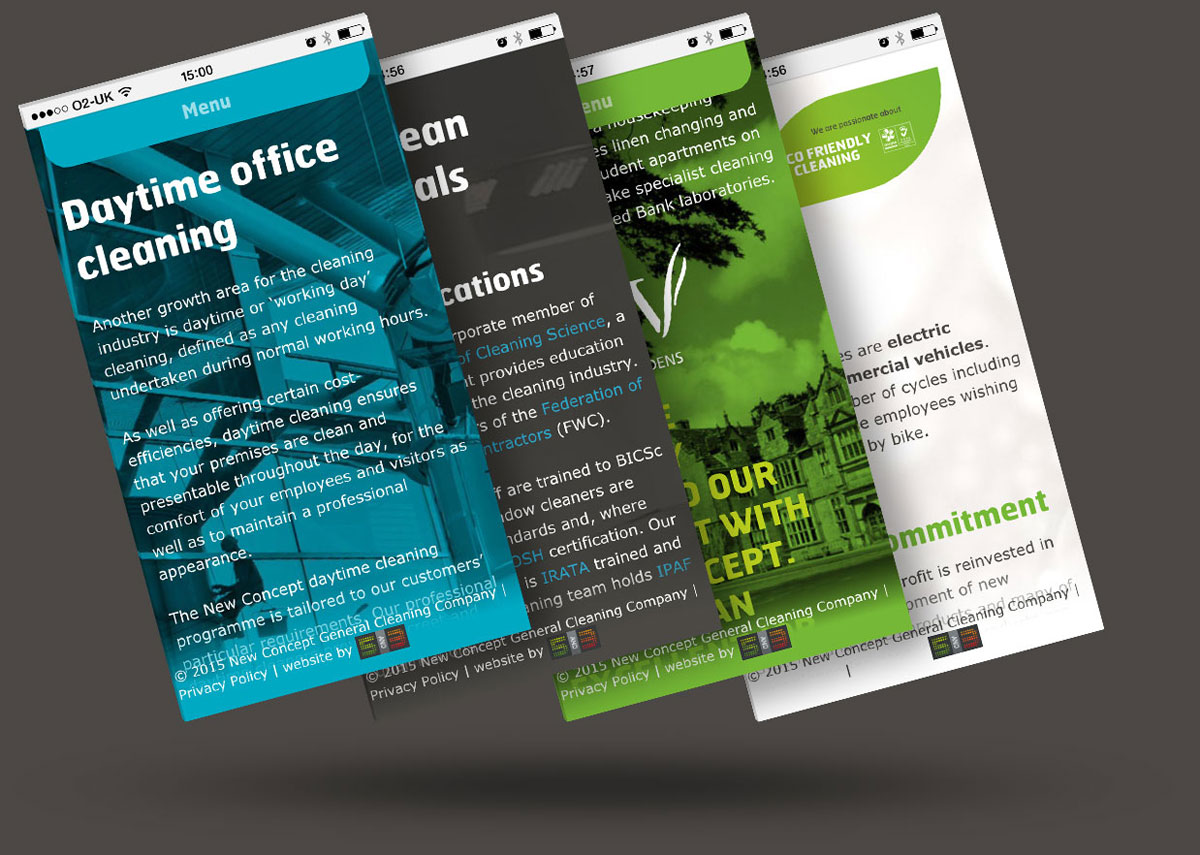 Considering a company rebrand?
Speak with our award-winning team on 01342 837821 or Arrange your no-cost branding, marketing and website consultation below. Alternatively, if you're unsure whether you need to rebrand your business please click > here